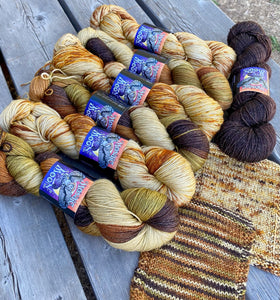 Mistletoe Gold Fingering - Lady in Paris Colorway, Sprinkle Dye, and Dark Brown Semisolid
3 in stock
Regular price $35.00 Sale
Lady in Paris is one of our Outlander-inspired colorways.  Made up of ecru, golds, bronze, browns.  This listing is for the Variegated Colorway (front in photo), Sprinkle Dye (second from front in photo), and dark brown semisolid (right side in photo).
This yarn is a super soft and luxe blend of 80% Superwash Merino, 10% Cashmere, and 10% Gold Sparkle Fiber. Skeins are 4 oz and approx 420 yards each.

Need coordinating semisolids to go with your colorway?  Click HERE to place a custom order.