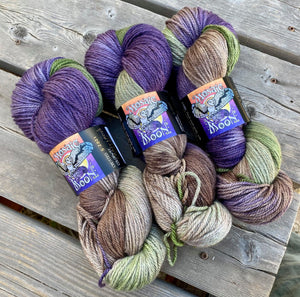 Madrone DK-- Crazy Lady's Dream Colorway
2 in stock
Regular price $32.00 Sale
Named for the original 'crazy lady'—Becky aka Beckyspaper who runs the Ravelry co-ops!  This colorway is made up of gentle shades of browns, greens, and purples.

This yarn is a gorgeous blend of 70% Merino, 15% Yak, and 15% Silk. 330 yards per 4 oz skein. It is NOT a superwash yarn. The twist/presentation is similar to our Rowan DK. Soft, smooth, lovely and the dyes take in a muted way with nice depth due to the natural grey-brown color of the wool prior to dyeing.




Need coordinating semisolids to go with your colorway?  Click HERE to place a custom order.