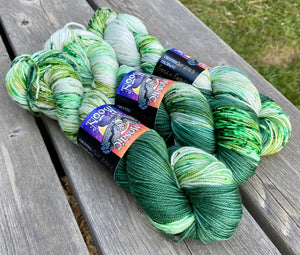 Birch Fingering- Green Gables Sprinkle Dye
3 in stock
Regular price $34.00 Sale
Green Gables Sprinkle Dye starts with a silver-white, then part of the skein is dipped in a Gables Green then sprinkled and dappled over with grass, leaf, emerald, and forest greens.
Birch Fingering is an 80/10/10 Superwash Merino / Cashmere / Nylon that combines drape with low-pilling.  This is a super soft and silky yarn that works for projects from mitts to sweaters.  Has a lovely sheen. Skeins are 420 yards and 4 oz.
Need coordinating semisolids to go with your colorway?  Click HERE to place a custom order.