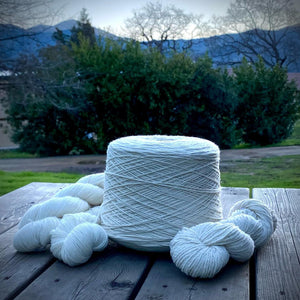 UNDYED -- You Choose Yarn / Fiber Type
This product is available.
Regular price $34.00 Sale
This listing is for UNDYED (cream/ecru) yarns and fibers. Upon order, your yarn will be skeined up, soaked, and dried (mill yarns "bloom" with soaking/washing and this way, undyed yarns will be very similar in loft and gauge to the dyed yarns).  Fibers will be braided up directly from the mill bump.  Yarns will be ready to ship in 2-3 days while fibers will be ready to ship immediately.  We may not have all yarns/fibers in stock at any given time.  You 
will be notified if there will be any delay.
For details on our yarns and fibers, please visit the PRODUCT LINE page.
SHIPPING-- AUSTRALIA and NEW ZEALAND customers *must* choose UPS shipping as USPS is not delivering to your locations for the time being.
If your desired yarn or fiber type is not listed, please message us for availability.